Follow your own path with Venture Labs
You've got a lot to show and want to reach even greater heights? Saddle up for the future with us.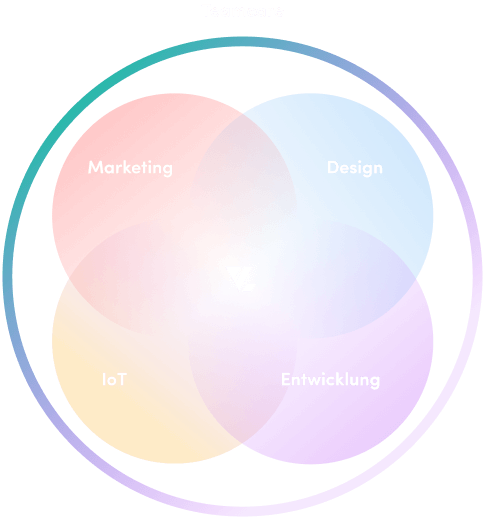 Being happy in your job doesn't come from nothing
Only when all of us work together, improve our skills and stay motivated and have fun, we'll be able to design, develop and market the products of the future.
That's why we place such a high priority on you being happy at Venture Labs. From your first day on - maybe even a little bit earlier - we'll be with you to make sure you feel comfortable and do what's important to you. We even have a whole team dedicated to this, which we affectionately refer to as "Team Care". It's like an HR department, only way better!
We help you find your career path, further your education and regularly organize entertaining company events. And we do it so well that we even offer our services externally. You think this story is fiction? It's not:
Find out more about TeamCare
Great employees
Work with some of the best talent in the industry and build a strong network with them.
Self-development
Together with the other Venture Labs experts, you can always get better.
Remote work
We have aligned our organizational culture to work online.
Integration trips
Even if we work online we meet from time to time in RL to get to know each other even better.
Your opportunities at Venture Labs
Career ladder, climbing wall - or catapult? You decide whether you want to go up, sideways, or even completely out of character. The main thing is that you are burning for your cause and are ready to learn every day and to advance yourself and your team. Whatever you want: Take the first step and create your own path at Venture Labs.
Pave your way with us
It's great if you already have a specialist skill, most of the time we search for coding or design skills. But as you might have seen we also have a marketing, sales and business management team. Improve your skills together with other experts at Venture Labs. And maybe you'd even like to take responsibility for a team, product or entire company.
Lisa
honeyanalysis teamlead
Lead your company to success with our support
Do you want to turn your own idea into a successful company or take on management responsibility in one of our subsidiaries?
We will accompany you with everything that goes with it. From onboarding processes and leadership training to financial participation. We can't take the step for you - but we'll do everything we can to make it easier for you.
Open Positions